Roll over image to zoom in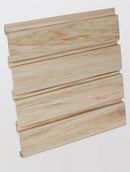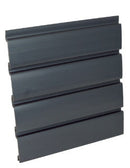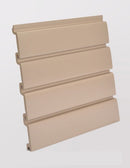 Description
Free Shipping on Everything all the Time! 
These are 48" Long Panels - Also available as:
Note: Due to a shortage of raw materials, unprecedented demand, and logistical issues we expect our HandiWall supply of certain colors to somewhat erratic for the next few weeks. Thank you for your patience and understanding as we work through these issues!
These panels are perfect for either home or business use.  With the industry standard 3 inch spacing between the slots you will always be able to find 1,000's of accessories to fit these panels.  The PVC material is lightweight yet durable and strong.  Installation is simple - Just screw it to the wall using our color matched self-tapping screws.  HandiWall can take a ton of abuse yet is virtually maintenance free - just wipe down with a damp cloth or you can even hose it down with a water hose if desired. - This product is used in many marine environment applications!  Unlike old style pressboard panels HandiWall will never rot, absorb moisture and fall apart, rust, be affected by insects, or disintegrate over time.
 HandiWALL® Product Features:
• Manufactured in the USA with blended Cellular PVC material that is tested and listed with Underwriters Laboratories
• Scratch resistant with normal use, surface scratches are less noticeable due to the material color is throughout the product
•  8 panels per carton in 4 foot lengths = 32 square feet per box.  One box of HandiWALL will cover the same amount of space as one 4' X 8' sheet of standard "old style" slatwall.  This 4 foot box will cover an area 4 feet wide by 8 feet tall or you can break up the panels into smaller arrangements
• Color coordinated installation screws and trim available
• Smooth satin finish gives high end aesthetic appeal
• Compatible with standard slatwall accessories - 3" on center between slots
• Water and moisture resistant
• 10 color choices available
• Strong and durable
• Easy to clean
A word about the our wood-grain panels: Maple, & Beachwood
 The great thing about our wood-grains is that you get the random graining and coloration just like real wood.  Sometimes the graining and coloration can be quite different, between multiple individual boxes.  When installing, always perform a "dry run" by laying out your panels and arranging in the most pleasing pattern before actually attaching to the wall.  We cannot be held liable for any color or graining match issues that may arise on wood-grain orders as that is an inherent feature of the product.
 Advice for husbands:  Always get your wife's approval on color choice before ordering,  This simple step can save you much grief later! 😆
HandiWALL® Technical and Quality Attributes:
 Fire tested by an independent laboratory (ASTM E84 Test) ranks HandiWALL® in Grade A (index of 15) for flame spread
3" Industry standard on center slats, 12¼" high (includes ¼" for tongue and groove connection).  Panels will work with all Industry standard spaced accessories such as Organized Living (Schulte), storeWALL, Suncast, and many others.
Meets our ISO Certified manufacturing process and is quality tested to be compliant with the ISO 9001:2008 standard:
Length, Form, Fit and Function including shape of slats, connection of panels, assembly of slatwall accessories is tested
Incoming Quality Control for color and materials requirements for lot consistency
Strength testing every production run via in-house calibrated fixture
First piece inspection to match control plan specifications
Product is measured for conformity to requirements including final audit of manufactured product, in process inspections, and  color match.
Color Chart
HSW1004
White
HSW2004
Taupe
HSW3004
Gray
HSW4004
Black
HSW5004
Maple
HSW6004
Oak
HSW8004
Antique White
HSW13004
Graphite/Charcoal
HSW14004
Beachwood
HSW15004
Silver
 HSW16004
Driftwood - Out of Stock (we do have 80")
Payment & Security
Payment methods
Your payment information is processed securely. We do not store credit card details nor have access to your credit card information.
---
Security